The University of Kansas is a public university founded in 1865, located in Lawrence, Kansas – which is considered the "heart" of America.
Kansas is voted in the TOP 200 of the best universities in the world based on many criteria: training quality, student recruitment rate, faculty professional quality, influence level, and quantity. patents (according to the Center for World University Rankings, 2017), … Established in 1866, KU is the largest university in the state of Kansas with more than 28,000 students from 105 countries around the world. Along with MIT, Harvard, and Yale, KU is a member of the American Association of University – an organization brought together by 62 most prestigious research universities in the United States. It is the largest university in the state with about 28,000 students from 99 countries. Engineering Science and Technology (STEM): Petroleum Engineering, Pharmacy – Pharmacy, Aerospace Engineer – Astronautical Engineering, Civil Engineer, Chemistry, Computer Faculty.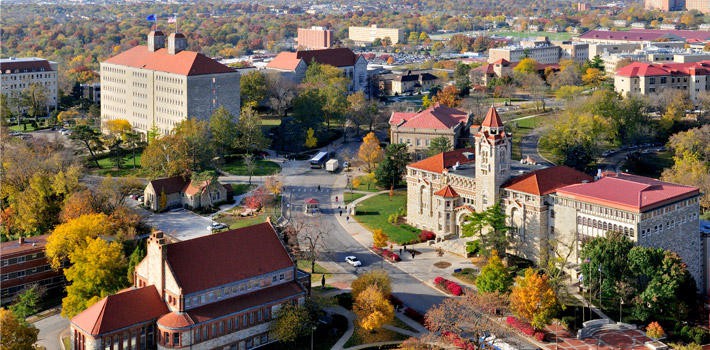 Coming to KU, you not only have the opportunity to experience world-class education with modern equipment but also be immersed in the most unique and beautiful architectural space in the United States. With the ancient red roofs with the style like "Hogwarts Witch Academy" in the famous Harry Potter movie, the KU campus has long been one of the famous tourist attractions in Lawrence and been the pride of many generations of KU students.

Outstanding features
*The most diverse and prestigious academic environment in the United States
KU currently has 13 member universities with more than 300 majors, including 190 majors for undergraduate students and 47 graduate majors are highly ranked nationwide. KU is the only university in the state of Kansas that offers a medical training program.
*Modern facilities meet international standards
Every year, KU receives big research grants of up to $ 240 million from the US government and other prominent private organizations. This has enabled KU to invest in and develop a system of facilities and equipment for the most comprehensive and large scale training.
In addition to 12 international standard research facilities and laboratories, KU also has a Biodiversity Institute and a Natural History Museum on campus – which holds more than 9 million specimens and 1.2 million. Archaeological artifacts including dinosaur fossils. The University of Kansas Libraries are one of the 50 largest libraries in the nation.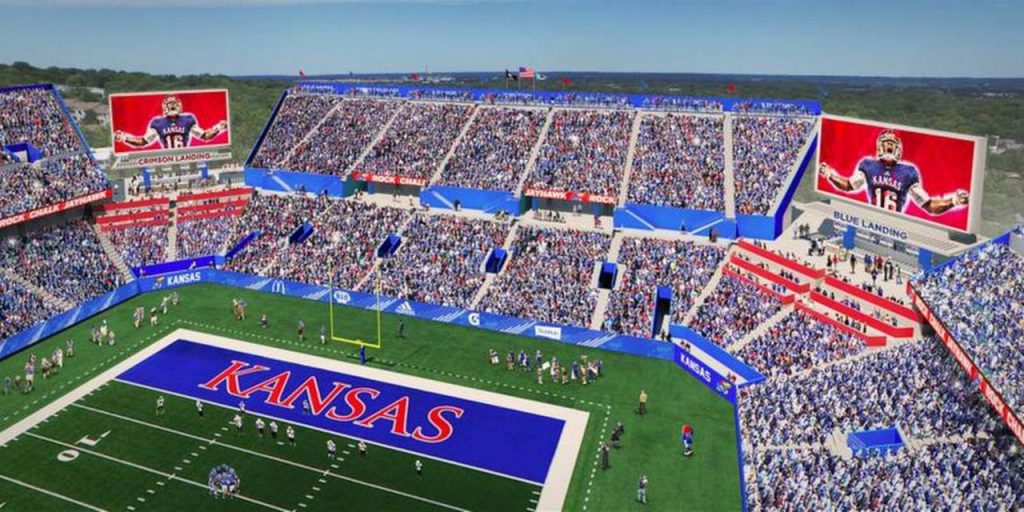 *University of Kansas (KU) – "Incubator" of world talent
As the leading research university in the US, KU is the cradle of many valuable inventions and winning Nobel prizes in many fields. Brian McClendon, an alumnus of KU, is a co-inventor of Google Earth, so Lawrence was chosen as the origin of Google Earth. More than 100 years ago, James Naismith invented basketball and created the first baseball course at the University of Kansas. Scientists who discovered vitamins A and D also graduated from this school. Thomas Rudkin – co-creator of the famous PowerPoint software, with many leaders and CEOs in the world such as the President of Colombia, CEO BJ Yang of Hyundai, former CEO Alan Mulally of Ford Motor and many astronauts of NASA also training at KU. Let KU awaken and nurture your hidden talent and step into the path of future generations of leaders.
*Guaranteed for a good career future
KU has links with more than 10,000 domestic and foreign companies, including many big names such as Garmin, Coca Cola, General Motors, Bayer, Cerner, Sprint, Amazon, Google, and PwC.
In today's competitive global economy, it would be hard to find a university with more trainees, and workers than students likes KU. In fact, 28,477 KU students have access to more than 40,000 internships and job opportunities through the university's career center. It should, therefore, come as no surprise that KU ranks 26th in the US in terms of recruiting rates for fresh graduates (Times Higher Education, 2016) with its student success rate six months after graduation up to more than 90%.
*Tuition
Although KU is a reputed university, it has a very reasonable tuition fee, only about $ 31,000/year (2 semesters). In addition, the cost of living in Lawrence is much cheaper than other big cities in the US, with food and accommodation only around $ 7,500 / year. Students not eligible for foreign language input can study English programs depending on their level. Tuition is very reasonable, about $ 13,300/a 15 weeks semester. To encourage and support Vietnamese students, KU currently offers attractive scholarships of up to $ 36,000 for 4 years of study, for students with excellent academic achievements. In addition, you will receive free registration, orientation, and airport transfer.
——————————————————————–
?Hotline: 035 600 6258
?Fanpage: fb.me/duhoc.anhngu.alice
         fb.me/duhocadenz.alice.academy
?Website: alice-academy.org